EID-UL-FITR
with all the best wishes we want to send you and your whole family our heartiest greetings for the Eid-ul-Fitr. Have a blessed and joyful celebration with your beloved ones and we wish you for the future lots of love, health and all the best.
EID MUBARAK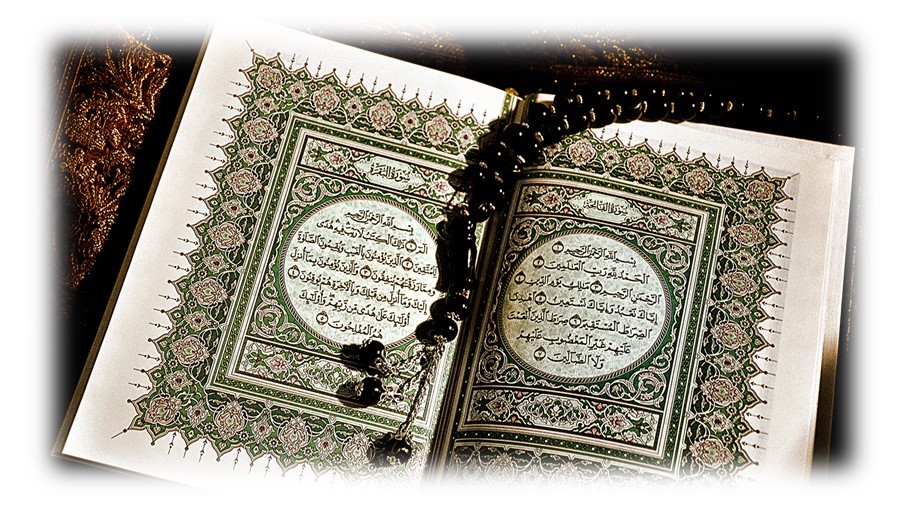 March 2018
"Best Achievement 2017" by Analytik Jena
Karl Kolb has been awarded the "Best Achievement 2017" by Analytik Jena (an Endress + Hauser Company) embedded in the Arab Lab 2018 on 19 March in Dubai. Analytik Jena is a provider of instruments and products in the areas of analytical measuring technology and life science. Karl Kolb is a distribution partner of Analytik Jena and was awarded for its excellent sales activities in Iraq.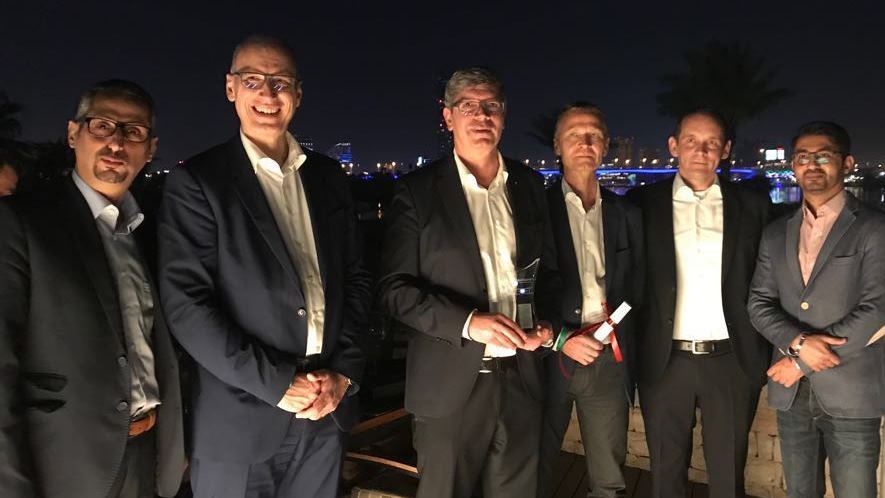 From left to right:
Dr. Mohamed Al-Higari (Regional Manager – MENA, Analytik Jena AG ), Ulrich Krauss (CEO, Analytik Jena AG), Dr. Michael Fraenzel (Managing Director, Karl Kolb GmbH & Co. KG), Bernd Herrmann (Sales Director, Karl Kolb GmbH & Co. KG), Maik Schmidt (Director Sales EMEA/APAC, Analytik Jena AG), Dr. Moath Al-Mekhlafi (Regional Manager-MENA, Analytik Jena AG)

Februar 2018
Karl Kolb has been awarded "Highest growth in Staining Instruments revenue 2017" by Leica Biosystems
Last year Karl Kolb has already received an award for "Best Overall Dealer 2016" by Leica Microsystems. This year Karl Kolb is proud to announce to have been awarded by Leica Biosystems as "Highest growth in Staining Instruments revenue 2017" in context with the annual Sales Meeting in Bucharest (Romania) from January 30 until February 2, 2018.
Leica Biosystems is a global leader in workflow solutions and automation, integrating each step in the workflow from biopsy to diagnosis under the mission "Advancing Cancer Diagnostics, Improving Lives". Karl Kolb is the exclusive distributor of Leica Biosystems in Iraq.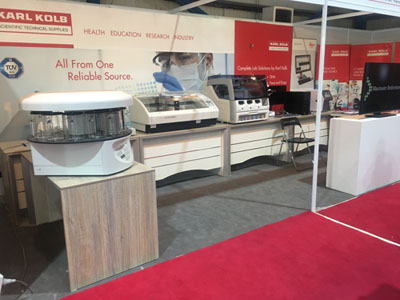 October 2017
Baghdad International Fair
Karl Kolb participated at the 44th Baghdad International Fair in Baghdad from 21 – 30 October 2017. The exhibition took place under the slogan "We liberated our land and with your cooperation we will build it". More than 400 companies from 18 countries and more than 1 million visitors attended the Baghdad International Fair.
As in the past years, Karl Kolb GmbH & Co. KG took the opportunity to meet different ministries and commissions along with distinguished doctors and interested people from the medical and educational sectors. As one of the most visited booths Karl Kolb presented their full range of services – innovative and sustainable.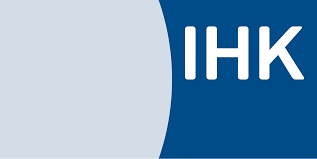 October 2017
Honouring the Best
The Chamber of Industry and Commerce (IHK) Offenbach recently honored Karl Kolb´s apprentice Ms Andrea Maedel for her excellent performance in the final IHK exams. Within two years she fin-ished a trainee program as wholesale and foreign trade clerk at our headquarter in Dreieich. We do not simply want to offer our clients a full range of lab equipment, it is a pleasure for us to sup-port our customers with the best experts. Therefore, we are happy to announce, that we have gained Ms Maedel as another dedicated and talented sales expert to complement our team.
September 2017
Strengthening International Collaboration In Calibration And Traceability
In the context of the 9th World Metrology Day, Karl Kolb participated in the 2nd Iranian Metrology Conference together with representatives of the Research Institute of Sweden (RI.SE) and the National Metrology Centre of Iran (NMCI). The Conference was hosted by the supervising body of NMCI, the Institute of Standards & Industrial Research of Iran (ISIRI).
Karl Kolb is acting as a platform of communication in order to strengthen the relationship between ISIRI-NMCI and RI.SE by the means of a local presence with offices and personnel based in Tehran.
This mediatory role aims to encourage both organizations to collaborate further in the fields of calibration and traceability in line with Karl Kolb's philosophy of "serving mankind by serving science".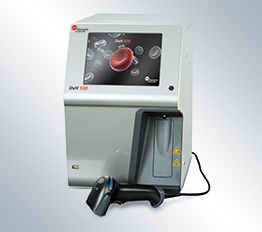 August 2017
New Partnership for Clinical Diagnostics
Karl Kolb agrees on distribution terms with Beckman Coulter Diagnostics for Iraq. Karl Kolb is proud to offer the complete comprehensive diagnostics portfolio of Beckman Coulter serving our customers all over Iraq.
Beckman Coulter develops, manufactures and markets products that simplify, automate and innovate complex biomedical testing. More than 275,000 Beckman Coulter systems operate in both diagnostics and life sciences laboratories all over the world. For over 75 years, Beckman Coulter products have been making a difference in peoples' lives by improving the productivity of medical professionals and scientists, supplying critical information for improving patient health and delivering trusted solutions for research and discovery.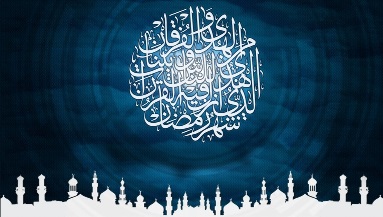 EID-UL-FITR
with all the best wishes we want to send you and your whole family our heartiest greetings for the Eid-ul-Fitr. Have a blessed and joyful celebration with your beloved ones and we wish you for the future lots of love, health and all the best.
EID MUBARAK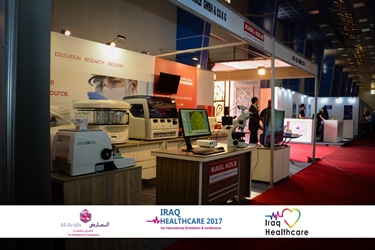 June 2017
Iraq Healthcare Exhibition in Baghdad
Karl Kolb participated in the 1st Healthcare Exhibition in Baghdad from 26-28 April 2017. In line with the Ministry of Health´s plan for developing the healthcare sector in Iraq, this exhibition was focused on building up a sustainable health infrastructure to ensure an enduring health care system in Iraq.
It was a pleasure for Karl Kolb to meet our customers, partners and interested companies in our products & services. It is one of our main targets to be able to contribute to the further development of the healthcare sector in Iraq by supplying scientific equipment with the latest and highest technology. For the future, we will do our utmost to strengthen the healthcare sector in Iraq.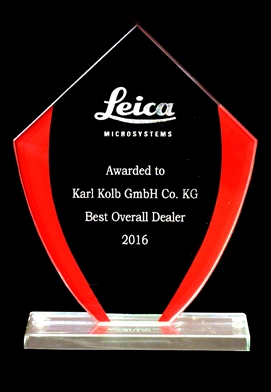 April 2017
Karl Kolb has been awarded "Best Overall Dealer 2016" by Leica Microsystems
Karl Kolb has been awarded the title of "Best Overall Dealer in 2016" by one of its main business partner companies, Leica Microsystems. Leica Microsystems is a world leader in innovative microscopy and software solutions for imaging and analysis of macro-, micro- and nanostructures. Karl Kolb is the official distributor of Leica Microsystems in Iraq and was awarded for its excellent business activities in Iraq during 2016.



26 - 28 April 2017
Iraq Healthcare Exhibition in Baghdad
Karl Kolb would like to invite you to visit our booth at Iraq Healthcare Exhibition in Baghdad from 26 - 28 April 2017. In the line with the Ministry of Health's plans for developing the healthcare sector in Iraq, the 1st International Iraq Healthcare Exhibition and Conference will be organized from 26 - 28 April 2017 at Baghdad International Fair Ground. The 1st Iraq Healthcare - Baghdad will focus its efforts to build a Sustainable health infrastructure to ensure a primary sustainable Healthcare system.
http://www.alaridh.com/iraqhealthcare2017/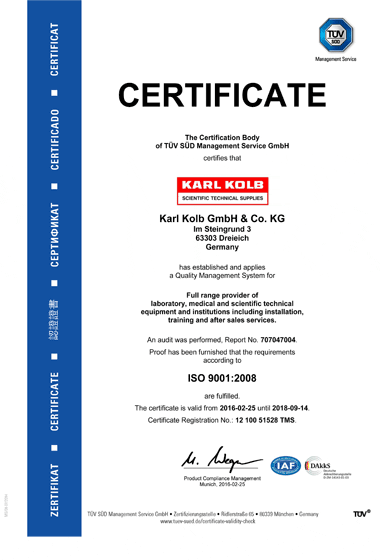 2016
Karl Kolb receives ISO 9001:2008 certificate
The new ISO 9001:2008 certificate has been issued for Karl Kolb, being valid until September 2018. This Quality Management System was audited by the certification body of TÜV SÜD and includes the full scope of products and services of Karl Kolb: "Full range provider of laboratory, medical and scientific technical equipment and institutions including installation, training and after sales services".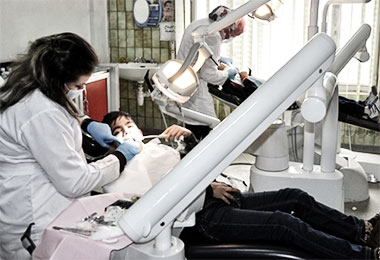 2015
Karl Kolb supplies state of the art devices to the College of Dentistry at the University of Baghdad
Baghdad, October 2015 - In a fast changing medical field such as dentistry, it is essential to stay on top of new developments in order to ensure a thorough education for future dentists and improve treatment facilities. For this reason, KARL KOLB was contracted to support the College of Dentistry of Baghdad University in their modernization process by supplying various devices, such as dental chairs, prosthetic and simulation systems and imaging instruments to their departments.

more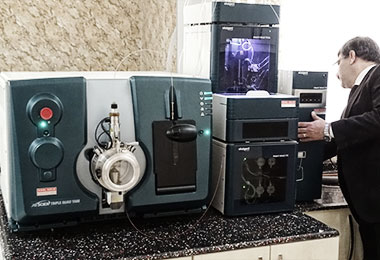 2015
College of Medicine at the University of Basrah receives new Sciex QTRAP 5500 LC- MS/MS System
Basrah, October 2015 – The Department of Biochemistry at the College of Medicine of the University of Basrah recently received a new state-of-the-art liquid chromatography coupled tandem mass spectrometry (LC-MS/MS) System. The system is intended for research on therapeutic drug monitoring, i.e. immunosuppressants and antiepileptics, newborn screening, steroids and many more.
The innovative design of the instrument combines a highly sensitive triple quadrupole with the company's patented Linear Accelerator Trap™- currently the world's most sensitive ion trap - increasing the sensitivity and speed of the measurements and facilitating the work flow.
To enable the scientists to make full use of the system's potential Karl Kolb organized an extended two week training on the device and its accompanying software at the Sciex Training Facility in Darmstadt, Germany.
As customary for Karl Kolb, the after-sales support will continue on a regular basis through frequent visits. This in turn ensures fast troubleshooting in application issues and maintenance requirements.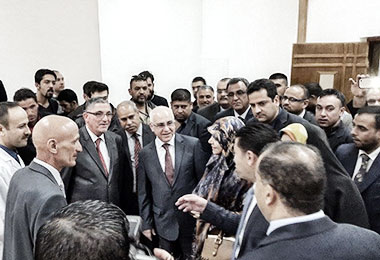 2015
Opening of Clinic of Operative Dentistry with Prominent Guests
Babylon, February 2015 – Sponsored by the Minister, the College of Dentistry at the University of Babylon opens the doors of their new Clinic of Operative Dentistry. To witness yet another milestone being set in the modernization of the Iraqi dental health care and education, the University President Dr. Adil Albaghdadi and the Dean of the Department of Dentistry Dr. Mehdi Jakob hosted very prominent guests, such as Deputy Minister Dr. Fuad Qassim, Member of Parliament Ms. Hanan Al-Fatlawi, Head of the Governorate Council Mr. Raad Hamza Al-Alwan and Local Governor of Babylon Mr. Sadiq Madlool.